ZESy® Devices and Features!
ZESy® offers you many options to use time recording in a flexible and personal way.
Here is a little excerpt of which devices and features, ZESy® provides.
The Terminal
Time recording via transponder or fingerprint
The terminal is a sturdy, stationary device which allows the staff to authenticate themselves through a transponder or fingerprints and record their working time. Recorded data is transmitted through the mobile network, LAN, or a connected WLAN and is available in the system in real-time. All you need is a connection for power supply and a mobile communications connection or a (W)LAN-connection.
Depending on which execution and protection class you selected, following characteristics are given:
With these characteristics, the terminal is a reliable device for time recording in production sheds, manufacturing buildings, machine halls and other similar surroundings. Below are the specifications of the different versions as PDF:
The virtual terminal
The virtual terminal is no physical device, but a graphical presentation of the terminal in a browser. All you need is a web-enabled device, like a PC, Notebook or Tablet.
You can create as much virtual terminals as you want in the system and determine the following characteristics for them:
After setting up, an Internet address is created, via which the virtual terminal can be reached. The virtual terminal can be operated both via mouse / keyboard inputs, as well as via touch-screen inputs, and is thus also suitable for mobile end devices.
The portal app
The ZESy® portal app is the smartphone app for administrative users and is available for free for android und iOS users.
Core features of the app are:
With the ZESy® Portal app, you always have a current look at the time recording in your company. Important information is always available on your smartphone, anytime, anywhere.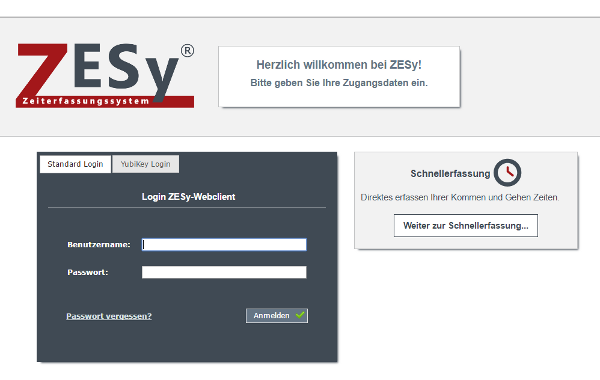 The webclient
The portal for your staff
The ZESy®-webclient is an internet-application with which your staff members can authenticate themselves with personal login credentials. All you need is a working mail-address and a PC, notebook or tablet with an active internet-connection.
The system can be used to specifically configure whether and with what rights an employee can use the ZESy® webclient
The webclient offers more opportunities, than just time-recording. You can review time accounts, absence accounts and the shift schedule and create applications for leave, sick certificates and work reports. A calendric overview of presence and absence of the staff members provides you a monthly summary of all relevant data.
The mobile app
The ZESy® mobile app, is the smartphone app for staff members and is available for free for android und iOS users.
Fundamental features of the app are:
The system can be used to specifically configure whether and with what rights an employee can use the ZESy® Mobile App.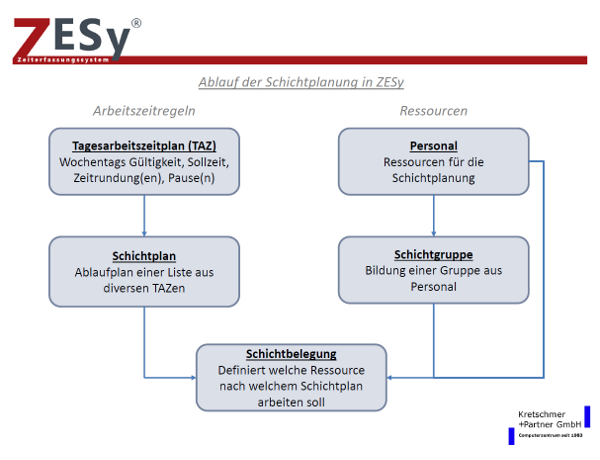 Shift scheduling
The shift-planning-module helps to create shift-schedules, shift-groups and cyclic shift-sweep.
The software provides an administrative overview about the deposited shift-configurations.
The classification of staff members to the shift-groups can be historicized an easily related to the shift-schedules
Every planned day can be headlined with shift-exceptions, providing you the ability to react on shift-changes without correcting the whole shift-schedule.
Shift-allocations can be exported graphically and therefore be provided to the staff members.
Access control
With ZESy® access control you can easily secure your buildings and rooms. Your employees authenticate themselves with the same transponder they use for time recording.
You determine which user can open which door. Deposited configurations are transmitted to every integrated device at the touch of a button. New eligibilities are available within a few minutes.
Time account / leave account
The time accounts save all working hours of the staff members and charges the difference to the particular target time.
Illustrated are all working hours which are recorded at a day and which day/week/month/year-sums are created that way. In addition to that, you can easily deposit if overtime is paid and how you want to look at paid intermissions.
The leave account saves all recorded leave days and detects the leave entitlement.
With the leave account, you define the leave entitlement, potential existing remaining leave, paid leave days and if desired, the sell-by date for remaining leave days of the prior year.
Graphical evaluation
For in-house analysis and presentation, we offer graphical evaluations of the corporate structure (organization chart), time account, leave account, recorded working hours on staff member rank, cost unit, location, department and commitment as well as a comparison of the types of accounting entries.
The visualization of large amounts of data are ceaselessly, if you want to detect KPIs easy and fast.